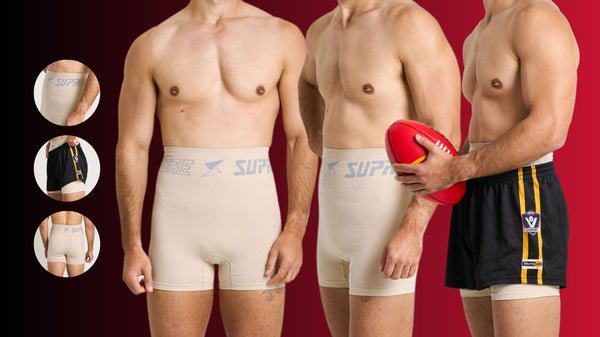 Men AFL
Supacore Coretech Compression AFL shorts and leggings are classified as a medical device that uses body mapping with graduated compression to replicate the body's own deep stability system and provide targeted compressive throughout the pelvis, core and lower body.
The pelvis plays a critical role in running mechanics. It acts as a bridge between the upper and lower body, transferring forces from the legs to the trunk and arms. A stable and aligned pelvis can help footy players to transfer these forces more efficiently, resulting in a more powerful and efficient stride.
Groin and osteitis pubis injuries are common in the AFL and they can have a significant impact on the performance of the affected players and their respective clubs. These injuries are often caused by overuse, the kicking motion., muscle imbalances, or sudden changes in direction during training or matches.
The compression shorts and leggings provide support and stability to the pelvis and core muscles, which can help to reduce the risk of injury. Supacore Coretech shorts and leggings can also help to improve recovery time.