There has been an exciting increase in Sportstech innovation during the last two decades. The use of technology in the sports industry has continued to improve the performance and recovery of an athlete. Whether it is athletic clothing, shoes or sporting equipment, athletes are keen to have the latest and the best. Notably, the most concerning thing in any sport is the cost of injury and Supacore Compression is determined to have an impact in this area.
An Accident Gave Birth to an Amazing Idea
Supacore's core business was manufacturing seamless leggings. When one of the designers of the company had injured her back in a car accident, she was forced to wear a heavy sacroiliac belt to help stabilize her pelvis and reduce her pain. This was the light bulb moment for Supacore's innovation. The idea of making leggings and shorts with a sacroiliac belt knitted into the waistband was developed.
When the injured designer met her physiotherapist, she was not wearing the sacroiliac belt but was wearing a pair of Supacore shorts. The physiotherapist was so impressed by the improvement in her patient that she requested Supacore to provide her with 20 more pairs so she could trial them with her injured athletes.
As a result and in collaboration with the physiotherapist, Coretech technology was registered with an international patent. And so the journey began.
The newly innovated shorts were trialed and tested on elite football players. The results showed that athletes with Osteitis Pubis and groin-related injuries could return to competition on average two-three months rather than the expected six months.
Trialling, testing and re-engineering of the garments over the next 6 years brought Supacore Coretech to the market.
Supacore focuses on developing and engaging the market by developing relationships with distributors globally and more vitally, enhancing the performance of athletes by helping to prevent injuries and improve recovery time.
Today, Supacore is the preferred compression used by elite athletes and the weekend warriors.
Working in collaboration with sports physiotherapists, chiropractors and elite coaches including Queens Park Rangers, Great Western Sydney FC, Arsenal FC and Southampton FC to name a few.
Reducing the cost of injuries
In the English Premier League last year, the cost of injury was estimated at £280m. Supacore is determined to reduce this number substantially.
Supacore has been working with Universities in Australia to continue to develop innovative Sportstech products.
The Australian Chiropractor Association (ACA) has evaluated and tested Supacore products and have approved and endorsed the product. Supacore products are also accredited and listed as a medical device by Therapeutic Goods Administration (TGA) and C mark in the European Union (EU).
Supacore assists in post-match recovery, injury prevention, and pre and postnatal pelvic related issues. Most importantly, it has been improving the performance of athletes by helping to prevent common hamstring, lower back pain, pubic overload, groin and hip injuries, and stabilizing the essential core muscles while speeding up the recovery process.
The Mechanism behind the Cutting-Edge Technology
The Coretech waistband technology is used to integrate the compression provided by a sacroiliac belt into leggings and shorts and has been developed for all levels of sportsmen and women and can also assist a pregnant woman with lower back pelvic or abdominal separation. It is estimated that around 20% of all pregnant women would suffer from this at some stage in their pregnancy.
This process has been engineered in such a way that the integral sacroiliac band mimics the body's own deep stability system by providing engineered placement of external compressive forces over the pelvis and core.
The shorts and leggings lessen the risk of groin or hamstring injuries by actively encouraging blood flow to key areas. The compression also helps to accelerate the recovery of recently damaged tissue by massaging the muscles to increase blood flow.
A leader focussed on innovation
Lesley Abeysekera, the CEO and Founder of Supacore is a hands-on leader and when needed, she is known to assist customer service and even arrange a courier during peak periods.
Her biggest satisfaction is when she hears positive feedback from medical professionals who use the product and athletes who are back on the park having used Coretech shorts and leggings. Likewise, she is very passionate about developing innovative products and is very involved in the entire process.
Teamwork is the Secret behind Supacore's Market Leadership
Supacore as a team encourages innovation, new ideas, and finding solutions to problems. All staff members are encouraged to involve themselves in discussions, collaborations and to have a healthy respect for differences in opinions. A weekly time slot is allotted for creativity and innovation, and the company's achievements and successes are celebrated together.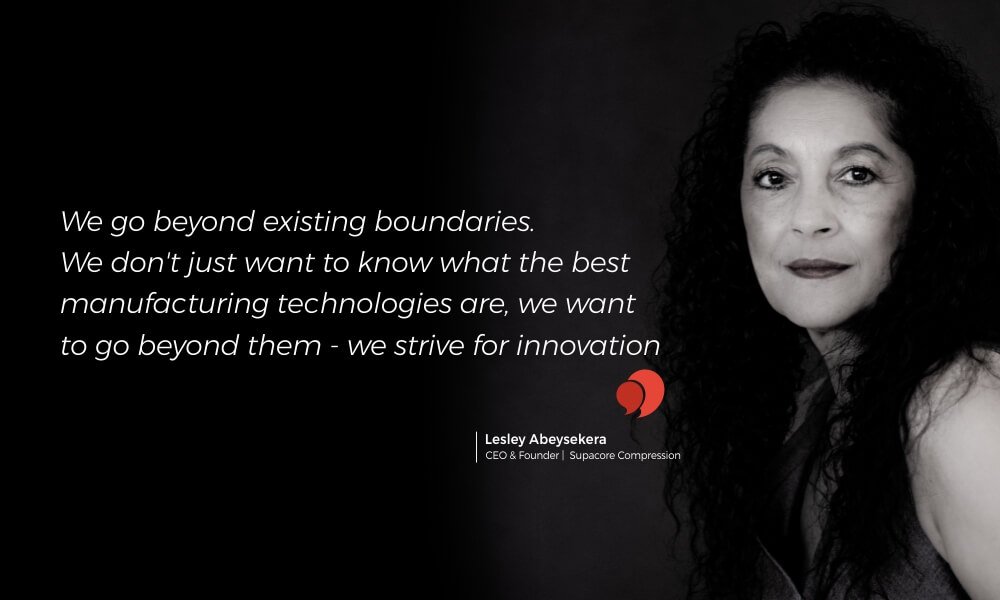 Future Goals of Supacore
With so many opportunities for new and improved developments and a long pipeline of new products, Supacore is looking for kindred spirits in Asia and the USA to expand its brand. According to research, Coretech technology can assist over 450 million athletes globally and on that basis, Supacore estimates a whopping $750 million opportunity as per the projected pipeline of product. As a part of a growing industry, Supacore wants to collaborate with interested parties around the globe.
Supacore looks ahead to working on 3D printing, working with different natural fibers, medical technologies involving body scanning and resistance training, and seamless knitting – customized athletic wear. "It is essential to serve a demanding and informed client, one who knows what attributes their athletic gear will give them and what cutting-edge technology will help them gain an edge over their competitors," says the CEO.