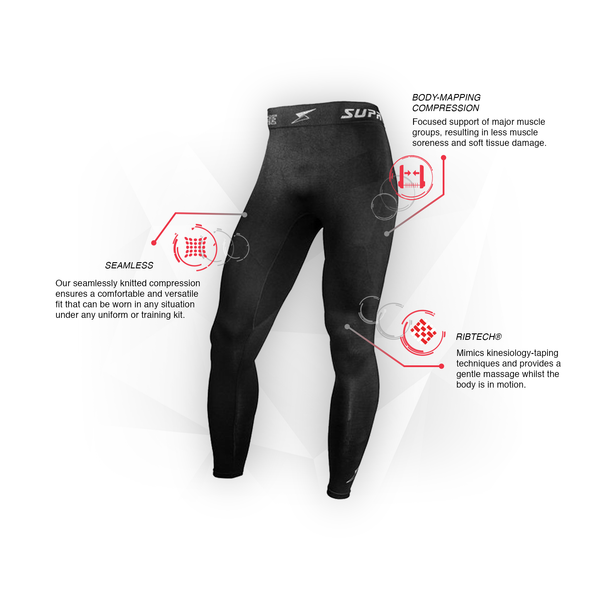 Seamless body Mapped Men's Recovery Compression Leggings
DESCRIPTION
DESCRIPTION:
Seamless body Mapped Men's Recovery Compression Leggings

Men's Recovery Compression Tights, Black with Core Support Ribtech Technology
  FEATURES:
Reduces effects of DOMS delayed onset muscle soreness
Worn in the AFL and Premier league.
Recover quickly and have no pain the next day.
Ribtech technology for micro massage of muscles as you move.
Approved and endorsed by the Australian Chiropractors Association.
---
"These are not you're average run of the mill compression garment - this is a high quality, very well made and thought out product (with regards to the bands and flow of compression) that feels medical grade.While that's all well and good, if you're wondering if they will help you with recovery...Hell YES. I use them after heavy leg strength training and have noticed a marked difference in muscle soreness. Instead of walking around gingerly for 2-3 days I can walk around normally.  Don't hesitate and don't waste anymore time looking elsewhere - amazing product at a very reasonable price"
  Lee Money
---


🚛 FREE SHIPPING
Free shipping on orders $149+
PLUS get free exchanges and returns in case you don't get the size right!
📏 SIZE CHART
🗜LEVEL OF COMPRESSION

📃WHEN DO I USE THEM?