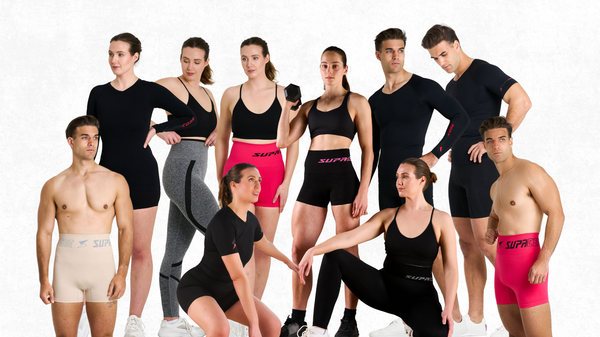 CORETECH® Collection
Your private health insurer in Australia may provide a rebate if you purchase any shorts or leggings from this range.
 The only seamless compression technology in the world that can assist with recovery from abdominal separation, hamstring, groin, hip, and pelvic instability.
The CORETECH™ range uses body mapping engineering to replicate the body's own deep stability system and provide optimal placement of external compressive forces throughout the pelvis and core.
Assists with 
- Prenatal support and recovery

- Reduce lower back pain and increases pelvic/back support pelvic instability and pelvic girdle pain( PGP)
- Increase mobility and stability - continuing to work. Support-related pelvic floor dysfunction (SPFD)
- Provide superior comfort using seamless knit engineering
- Difficulty with sleeping - cannot get comfortable.
Can assist you;
speed up post-pregnancy recovery;
Abdominal Muscle Separation (Diastasis Recti,
Abdominus Muscle DRAM)C-section or perineal trauma
Increase stability and mobility
regain your pre-baby body shape
 The CORETECH® technology with the added pelvic stability provided by a medical grade "knitted in" high waistband will assist with your movement post-delivery and support you while you lift, feed, bathe and care for your baby.
The garments also feature;
Ribtech® mimics kinesiology by micro-massaging the underlying muscle groups whilst the body is in motion.
and
Seamless knitting technology enhances comfort and fit and results in a durable garment. 
REGISTERED AND LISTED AS A MEDICAL DEVICE IN THE EUROPEAN UNION AND THERAPEUTIC GOODS ADMINISTRATION AUSTRALIA
The CORETECH™ range uses body mapping engineering to replicate the body's own deep stability system and provide optimal placement of external compressive forces throughout the pelvis and core.Assists with - Prenatal support and recovery- Reduce lower back pain and increases pelvic/back support pelvic instability and pelvic girdle pain( PGP)- Increase mobility and stability - continuing to work. Support-related pelvic floor dysfunction (SPFD)- Provide superior comfort using seamless knit engineering- Difficulty with sleeping - cannot get comfortable.POSTNATALCan assist you;speed up post-pregnancy recovery;Abdominal Muscle Separation (Diastasis Recti,Abdominus Muscle DRAM)C-section or perineal traumaIncrease stability and mobilityregain your pre-baby body shape The CORETECH® technology with the added pelvic stability provided by a medical grade "knitted in" high waistband will assist with your movement post-delivery and support you while you lift, feed, bathe and care for your baby.The garments also feature;Ribtech® mimics kinesiology by micro-massaging the underlying muscle groups whilst the body is in motion.andSeamless knitting technology enhances comfort and fit and results in a durable garment. REGISTERED AND LISTED AS A MEDICAL DEVICE IN THE EUROPEAN UNION AND THERAPEUTIC GOODS ADMINISTRATION AUSTRALIA