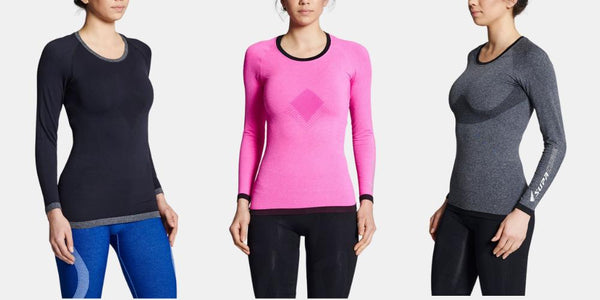 Long Sleeve Training Tops
Supacore's premium compression long sleeve tops incorporate medical-grade compression alongside seamless knitting technology in order to bring you an advanced worlds best compression top.
The tops include;
seamless compressive forces,
Ribtech® which provides micro massaging of the muscles whilst you move,
mesh panel sections in high sweat areas for breathability, and
our exclusive Supa-X feature which provides postural support between your shoulder blades for desk workers and text junkies ( text neck is a major postural problem). 
The Ribtech® compression in the lower back area also assists with posture and related lower back pain.
moisture wicking yarns and quick dry technology
Level of Compression
Level: Medium compression (15-20 mmHg)

Ideal Use: During training or competition
When do I use them?
The Supacore Upper Body range is designed to be worn whenever you exercise, or when you require additional postural support. Our customers traditionally wear them during training, competition, during recovery periods, and beneath workwear for postural support and moisture management throughout the day.
How long do I need to use them for in order to receive the benefits?
Ideally, wear them during training or competition for increased performance and decreased risk of injury, and for 2-24 hours post-training or competition for the increased recovery benefits. If wearing them for postural support, wear them for as long as the support is necessary.
Material: 82% Polyamide, 15% Elastane, 3% Polyester
All Supacore products are backed by our 100 days worry free/no questions asked returns policy.